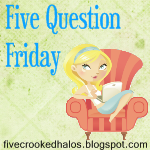 For the rules on how to join in FQF hop on over to Mama M!!!


1
.
Have you ever had a celeb sighting?

I would have to say that NO...I have never just been out and "ran into" a celebrity...I live a sheltered life here in PA!! LOL


2. What temperature do you keep your house?


Wow...I don't really know...but I think about 70...no higher than 73 in the winter


3. Do you notice dust at other peoples homes?


Yes I do...I do not "look" for the dust...but if I see it I just think, "whew...I am not the only one with a dusty house!!" :)


4. What's the worst job you ever had?

When I was 15 or 16 I worked in a "sweat shop" with a lot of "older" woman. These woman sewed vests...remember the ones we all used to wear in the late 80s early 90s?? Well, of course when the vests were sewn...it was inside out. So, my job was to turn them right side in and use a pointed stick of some kind and make the points of the vest "perfect"...yeah tedious...and I probably got paid about $3/hr!!! It kept me out of trouble I guess...and also made me realize that i didn't want to work in a factory when I got out of school....so I guess it taught me something!!


5. What is your most sentimental possession?

When I graduated from Medical Secretarial school, my Nana gave me her mother's wedding ring, which is engraved with my great grandmother's and great grandfather's initials and the date they were married (in 1932). I never met my great grandmother since she passed away a few years before I was born...My father wore the ring on his dog tags when he was in Vietnam and I wore the ring on my wedding day. It is a very simple ring...but it meant a lot to me that my Nana gifted the ring to me.
____________________________________________________________________________________




This is the 3rd Friday that I have joined Friday Follow hosted by hosted by One 2 Try, Hearts Make Families and Midday Escapades!

It is A LOT of fun and I have met so many new bloggers!! So if you are interested in meeting new blogging friends and reading what they have to say....LINK UP...and here is how!

Here's how YOU can join the celebration:

--Link up your blog name and URL using the MckLinky below. Only need to add on one blog to be seen on all the blog hops.

--Follow the Friday Follow hostesses listed in the first 3 slots.

--Follow as many blogs as you'd like.

--Take a moment to comment on the blogs telling them you're from Friday Follow.

--Follow back when you get a new follower through Friday Follow.

The Blog Hop is the same at each of our three hosts blogs so you do not have to add your blog at each site. Just one - but you can follow each blog. Follow a few or follow them all.

The list is new each week. The links do not carry over. Please link up each week for new participants to find your blogs. The list is only open to add your blog links on Fridays. It will be visible all week to visit the blogs listed.