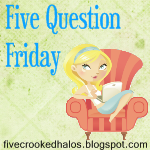 For the rules on how to join in FQF hop on over to Mama M!!!

1. What are you most afraid of?


Not being around to see my kids grow up :( Although, I am not afraid of death itself (I guess) I am more afraid of leaving my kids & family and how they would feel when I was gone....wow, now on to a happier question!! :)


2. Do you use a flat iron or curling iron?


I use a curling iron....but after reading all of the posts...maybe I should try a flat iron???


3. Hands-free or phone to the ear?
Phone to ear...which can sometimes be tricky with the cell phone...since my ear sometimes disconnects me....I do not have one of the blue tooth thingys...but would probably like it if I did!!


4. Do you have a matching bedroom set?


Yes, we do!! But it was not purchased until about 7 years after we were married. Actually our bedroom suit...and the crib and dresser we bought 6 1/2 years ago before our daughter was born would be the only furniture we actually bought...everything else is hand me downs!!!


5. Do you believe in the paranormal?

I believe it could be a possibility; although, I have never had any type of experience with it. So I really cannot truthfully answer this question.